Record every keystrokes, smart and powerful low-core Key logger engine!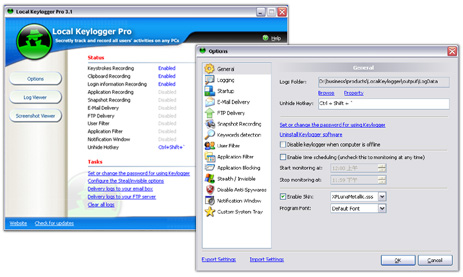 > works under all Windows platforms (Windows 95/98/NT/2000/XP/2003/Vista)
> Trial version is fully-functional for 7 days
Download our Keystroke Recorder! Ideal monitoring software solution for business use!
our Keystroke Recorder is perfect monitoring software and network monitoring tool for offices.
our Keystroke Recorder is the best selling surveillance software for monitoring and recording every detail of PC and Internet activity everywhere: in your home or in your office. our Keystroke Recorder includes several integrated stealth modules that record: chats, instant messages, emails, websites visited, absolutely all keystrokes, each and every program launched, all passwords and even Windows logon password, usernames and time they worked on your computer, desktop activity, clipboard and more. Keystroke Recorder is your only complete privacy fortress that will protect your PC and inform you about every keystroke made!
Keystroke Recorder provides the equivalent of a digital surveillance history so that you can see exactly what your family members, neighbours, employees or other users are doing on the computer. Keystroke Recorder works absolutely secretly saving all the recordings in a hidden location only you know about, all the logs are encrypted and cannot be viewed by anyone but you.
Features
TOTALLY INVISIBLE AND UNDETECTABLE BY ANYONE
Keystroke Recorder works in absolutely stealth mode. Its stealth mode is a unique combination of the most up-to-date technologies in system security and software stealth, it means that no button or icon will be present anywhere: in the Task Bar, process list, Task Manager list, uninstall list, system tray. Keystroke Recorder ensures that it will not be detected even by most advanced PC users and even anti-keyloggers. This Keystroke Recorder is the only completely Stealth PC Monitor that works as a driver and hides itself in the most advanced and stealth places of your system.
RECORD PASSWORDS – CAPTURE ALL APPLICATIONS' LOGON PASSWORD
Keystroke Recorder offers the lowest level of monitoring by injecting a system with its kernel mode driver. This will ensure all logon passwords are captured! You can now easily login to that account and view information once the password has been captured! Keystroke Recorder will record all passwords typed on your keyboard and store the information into highly secure logs only you can view. Additionally, our Keylogger will capture passwords even if they are masked differently from "*" or dots (like in Windows XP), Keystroke Recorder logs every password that appear to be input on your computer under all user accounts! This is the maximum level of snooping not offered by any other competing keystroke recorder!
ONLINE CHAT RECORDING AND MONITORING
This powerful Keystroke Recorder can record all keystrokes typed in any application window, such as user name, password, e-mail, chat, instant message (MSN/AOL/ICQ/AIM ), etc. The records are time stamped and categorized by the window title they belong to, so you can tell when and what documents were being typed. Chat/Instant Message Recording captures popular chat and instant messaging services and provides you with a clear record of all conversations that have taken place. Keystroke Recorder does not only record stand-alone chat applications, it also records web-based chats: everything where keyboard activity is present. With the Chat/IM/Web Recorder built into Keystroke Recorder, chats and instant messages are automatically recorded and saved for your later review. With the power of Keystroke Recorder you will be able to spy on a spouse, spy on children, spy on employees, spy on lover – you will know to whom they communicate on the Internet, what they discuss, whether they are cheating or using your company resources illegally, whether they are having online sex relations, cyber sex, or just a secret admirer somewhere on the Internet.

EMAIL RECORDING
Keystroke Recorder will stamp out abuse with cutting-edge email recording capabilities designed to ensure that you have a clear record of all email being sent from your computer, your office, home or company premises. In addition to recording business standard MS Exchange, The Bat! and Outlook email, Keystroke Recorder includes advanced web mail capturing. This includes web mail services such as Hotmail, Yahoo Mail and AOL Internet Email, local ISPs web-email services. Keystroke Recorder will silently log every e-mail created on your computer. It will record user account, e-mail program he or she uses to send/receive e-mails, time and date, and complete text of the letter. Not a single e-mail message will be missed by our Keystroke Recorder! Record all e-mailing activity, be sure you are aware of all communications of those who work on your computer!

WEBSITES ACTIVITY LOGGING
Our Keystroke Recorder even records all websites visited in Internet Explorer, Netscape Navigator, Opera and other popular browsers. OurKeystroke Recorder will log the website URL, the website title, the time the website was visited and all the user details! You can click on the link in the Log Viewer to launch the visited page in your browser immediately! The Web Site Recording tool in Our Keystroke Recorder will continually monitor every web page that is accessed by your computer and save a record of those URLs and domain names, including titles and window captions. In this way you will easily know which software is used by the monitored person for surfing, downloading, etc. With Our Keystroke Recorder's advanced and intuitive Web Site Keystroke Recorder, you will get a quick yet exact picture of each individual's web surfing behavior.
SCREEN SHOT CAPTURING – SNAPSHOT RECORDER
Imagine surveillance cameras pointed directly at every PC on your company network or monitoring your home computer day and night, filming all Internet and general PC activity, and storing this in a secure area for later review. That is the idea behind the Snapshot Recorder tool in OurKeystroke Recorder. Using extremely flexible system of keywords and filters, Our Keystroke Recorder will automatically increase screenshots frequency to ensure that every detail of the offender's actions are recorded. NOT like other PC Keyloggers in the world, Our Keystroke Recorder can take picture of the Windows Desktop just like an automatic surveillance camera hidden from all users! It will capture images in few SECONDS instead of minutes as other PC monitoring keystroke recorder. You have the possibility of taking pictures of the entire screen absolutely invisible for the user, specifying the delay and being sure you capture desktop activity you seek to, and saving the pictures in high quality JPEG format. this Keystroke Recorder will also invisibly log the time stamp when the screen shot was taken. When you click the record in log viewer, our PC monitoring software will launch the selected screen picture in your browser, from which you have a wide range of opportunities for images manipulations. That means you get detailed visual recordings of all chat conversations, instant messages, emails typed, all web sites visited, all programs run, all keystrokes typed – all activity on all computers.
UNIQUE CLIPBOARD MONITORING
Imagine that someone being monitored receives an illegal password or login name by e-mail, which is too long to be typed. What does he/she do? He will copy it to the clipboard and paste wherever it might be needed. Other keystroke recorder will just miss this info, as there's no keyboard activity during this operation. our Keystroke Recorder goes further! It offers unique clipboard monitoring feature, no other competing product has! In this way you have a much more profound control over your computer and Internet activity. Clipboard recording is the key-feature for every keystroke logger, but only our Keystroke Recorder has realized it in the best way!
WINDOWS STARTUP – AUTOMATIC ACTIVE STARTUP
our Keystroke Recorder invisibly starts when your OS is booted. You don't need to launch monitoring features manually. Everything is configured for your best convenience. No matter which user logs on, this Keystroke Recorder will start keyboard monitoring immediately. The powerful PC spy software is automatically configured to start in "Active" monitoring mode, then our Keystroke Recorder will record everything as soon as it is run!
PC ACTIVITY MONITOR – IDLE DETECTOR
our Keystroke Recorder engine will automatically pause most monitoring activities when the monitored system is idle. Thanks to this unique capability of detecting computer usage, our Keystroke Recorder will minimize system resource usage and avoid capturing large numbers of duplicate screenshots automatically.
PERFECT FOR MONITORING MULTIPLE USERS
Automatically begin recording immediately all user accounts no matter if they are password protected! Upon Windows startup our Keystroke Recorder will capture all information from all users! Each entry in the logs is matched against a user account, so you don't need to separately view logs for each user on your computer, observe all the activity with ease in a few clicks.
PASSWORD PROTECTION
our Keystroke Recorder is the most secure PC spy as it is password protected to prevent others from starting/stopping the recording process, modifying the configuration settings or viewing the logs. You are the only master of your system, and nobody can intrude without your permission. ourKeystroke Recorder will help you stay informed and completely secure!
HIGHLY ENCRYPTED LOGS – YOUR PRIVACY IS THE KEY
our Keystroke Recorder encrypts all log files with highly secure algorithms and protects them from being viewed by someone else but you. Only you can read the logs with a unique username and password that you can change at any time! We care about your privacy and our keystroke recorder will help you make it even better and feel even more secure. Additional actions are taken for even higher protection of your information and logs: a lot of ways to detect the place where they are stored are blocked and overridden by our professional stealth low-level solutions.
AUTOMATIC LOGS CLEARING
our Keystroke Recorder can automatically clear old/outdated logs when the log files exceed the size you specified. This will prevent the keystroke recorder from using too much of the disk space. You can configure our keyboard monitor to clear logs automatically after sending them via e-mail, or by time or by size (when they reach more than 2 megabytes in size, or once a week, a month or a day) – your choice whether you want them stored for good, or deleted if they become old. our Keystroke Recorder offers unprecedented flexibility!
NOTIFICATIONS VIA EMAIL – STAY INFORMED REMOTELY
our Keystroke Recorder is the only key logger on the Internet that offers flexible set of controls for setting up regular e-mail notifications. It will send the logs in a letter to your address according to your own settings: every hour or every week, etc. Install Keylogger only once, and keep tabs on what is going on with the monitored computer without being seen.
REMOTE ACCESS – REMOTE KEYLOGGING – NO PHYSICAL ACCESS
our Keystroke Recorder Software is also a remote controllable spy software that allows you to save log files on any computer on the network (even if it needs authorization). This means you can store the log files over a corporate or small business network, so you can easily monitor other computers on the network and view the report on your own computer. Or you can access a specific port on the monitored computer via LAN or Internet and using your password get access to all logs and snapshots remotely and absolutely invisibly!
APPLICATION MONITORING AND WINDOWS CAPTURE
our Keystroke Recorder can record all applications ran and the text typed in these applications. You will know the exact time, date, path, window caption and other options of the programs launched on your computer. You can easily find the software installed without your permission under all user accounts on your system. Our PC Spy Software can record all applications' window activity taken place on your computer! It will log the window title, the current user name and all keyboard activity within that application. By this you can find out what movies/games were played, what files were modified, what pictures were displayed, and much more.
If you have any questions about our Keystroke Recorder, please feel free to contact us, we will be happy to answer them!